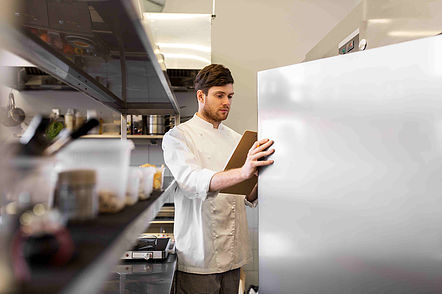 Reliable Restaurant Refrigeration Repair Across Melbourne
The hospitality industry requires functional and efficient refrigeration systems. From small cafes and restaurants to hotels and catering operations, the ability to store and preserve food products is absolutely essential. If you're involved in the food services industry, we provide a trusted restaurant refrigeration service to keep your business running.
The last thing a restaurant needs is a broken or malfunctioning refrigeration system. Not only does this compromise the quality of your products, but it can also shut down your business and cost you lots of money in lost revenue. Long-term problems with refrigeration and freezer systems also have hidden costs, with small problems often requiring extensive repair and equipment replacement.
At Pioneer, we provide a professional restaurant refrigeration repair service in Melbourne.
Our restaurant refrigeration service is prompt and reliable for your complete peace of mind. We understand the problems that arise from faulty equipment, with our team arriving quickly to help you protect valuable inventory and ensure business continuity. Our fully certified technicians can visit your location, perform an assessment of your refrigeration system, and conduct all necessary repairs. Depending on the type and extent of the problem, we carry out work both on-site and in the workshop.
Restaurant refrigeration repair in Melbourne offers the following benefits:
Boost workplace productivity
Ensure business continuity
Protect valuable inventory
Lower energy consumption
Avoid costly replacements
Prevent dangerous accidents
For over 20 years, Pioneer has been the number one trusted commercial fridge mechanic in Melbourne. We can diagnose and repair the vast majority of fridges and freezers to keep your business moving. When you contact our dedicated team, you can rest assured that your refrigeration system will be up and running in no time.
If you're looking for a restaurant refrigeration service, we are here to help.
Tailored refrigeration repair services
Our trained team has experience across the food services industry, from small cafes and bars to restaurants, hotels, and catering businesses. We deliver tailored services for your specific needs, including ongoing maintenance programs, scheduled repairs, and emergency repairs. We have experience with hospitality display fridges, retail storage systems, and large-scale cooling infrastructure.
Along with restaurant services, we also offer commercial and emergency refrigeration repairs across Melbourne.
For more than 20 years, we have delivered a professional restaurant repair service to the Melbourne hospitality industry. We are based in Melbourne's eastern suburbs, and able to service the entire metropolitan area. We understand the demands faced by the food services industry, which is why we offer affordable rates without compromising on quality. Our workmanship is second to none, our equipment is top-class, and our customer service is honest and reliable.
Along with offering the best restaurant refrigeration service in Melbourne, we also cater to other industry sectors. From industrial facilities to medical and laboratory refrigeration, our highly trained experts have got you covered. We also provide maintenance services for air conditioning systems and electrical equipment across the commercial and industrial landscape.
Find a restaurant refrigeration repair solution today
When it comes to restaurant refrigeration repairs, you can trust pioneer to get the job done. If you need fast repair to avoid disrupting your business and income stream, we can visit your business at any time of day or night. Our team is licensed, qualified, insured, and trained with all common hospitality refrigeration systems. We pride ourselves on quality workmanship, great customer service, and competitive rates.
If you want to book our emergency commercial refrigeration repair service, please contact our team by calling 03 9078 9494 or sending an email to admin@pioneerpl.com.au.
Sign up to our newsletter