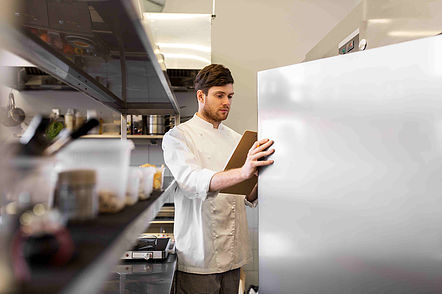 The Best Restaurant Refrigeration Repair Based in Melbourne's Eastern Suburbs
All restaurants require functional refrigeration systems to store and preserve food products that will be cooked for prospective patrons. The last thing a restaurant wants is to be faced with the issue of a broken or malfunctioning refrigeration system. Not only will this compromise the quality of the products inside, but it can cost your business in lost revenue.
At STUARTEK, we're proud to offer professional restaurant refrigeration repair services for this very reason.
Our solutions are prompt and reliable, guaranteeing peace of mind when it comes to preventing unnecessary spoilage and wastage. Our fully certified technicians will visit your restaurant, perform an assessment of your refrigeration system and conduct the necessary repairs.
You can rest assured that your refrigeration system will be up and running in no time if you call our dedicated team. Get in touch with us today to find out how we can repair or maintain your restaurant fridge.
Quality Workmanship You Can Count On
For more than twenty years, STUARTEK has provided professional assistance to a range of industries that make use of refrigeration systems. Whether you require medical refrigeration repair to preserve pathology samples or you need restaurant refrigeration repair to prevent costly food spoilage, our highly trained experts have you covered.
We are also capable of providing maintenance services for air conditioning systems and electrical equipment. Our extensive expertise allows us to work on a wide range of systems that are used in residential, industrial and commercial environments, including restaurants.
Based in Melbourne's eastern suburbs and servicing the entire metropolitan area, we have a strong reputation for offering affordable rates without compromising on quality. Our workmanship is second to none, using the latest equipment and techniques to deliver superior results. Our clients can feel confident knowing that we will get the job done right the first time.
Discuss Your Requirements Today
At STUARTEK, we work closely with our clients to ensure that their needs are met and their expectations are exceeded. Contact us today to learn more about our restaurant refrigeration service and discuss your requirements.
Simply call us on 0423 808 738 or send an email to service@stuartek.com.au.
Sign up to our newsletter